东莞市方盛生物科技有限公司
GOLDWIN HOLDINGS LIMITED
Touch-screen control buttons, adjustable fan speed, four-color light selection for customer preferences.
Touch screen contol ,Decorative night light,Energy saving mode,4 color adjustable LED
Application: All indoor spaces, deck, corridors, and garages
Touch-screen control buttons, adjustable fan speed, four-color light selection for customer preferences.
Touch screen contol ,Decorative night light,Energy saving mode,4 color adjustable LED
All indoor spaces, deck, corridors, and garages
SPECIFICATIONS
---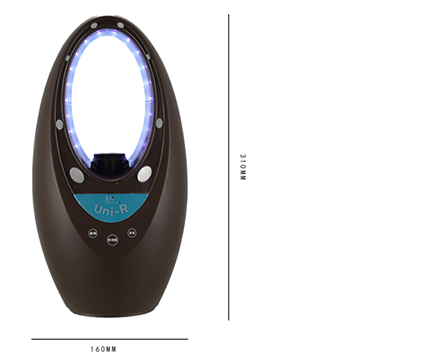 Model:UNI-R
Material: ABS,PC
Colors: Dark Cocoa, White
Dimension: 160*310MM
Power Adaptor: Input 100-240V, Output DC12V
Power Consumption: 4.5watts
Accessories: Power adaptor, Attractant, Brush, Instruction Manual
Attractant model: MXA-02
Cable length: 3Meters
Net weight: 0.6KG
Coverage: 200 square meters
Application: For all indoor locations, including balconies, corridors, garages.
Warranty: One-year warranty
---
DESCRIPTION
---
---
PACKING LIST
---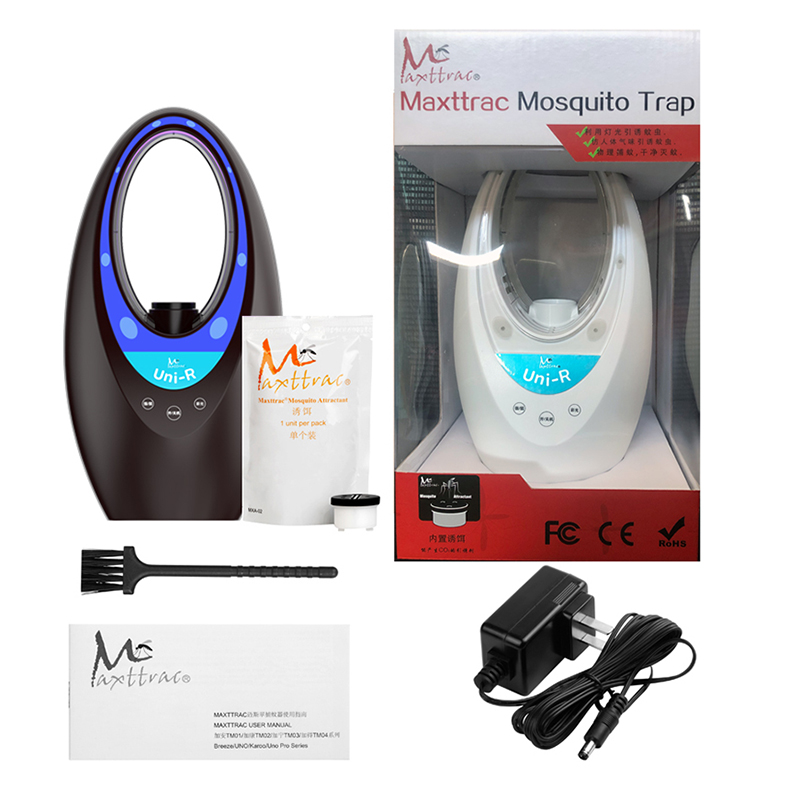 We could not find any corresponding parameters, please add them to the properties table
---
Quick Start Up Instruction:

1.Open the attractant bag, take out the attractant, use a sharp object to penetrate the holes on cap (open as much as you could), and place the attractant into the machine.

2.Put the Maxttrac at a corner, the side with attractant facing outside (TM01) and upward for all other models.

3.Connect the power source, and please use only the provided DC power adaptor.
4.The machine is operating normally if the fan starts and the LED light turns on. (For Breeze, ON button needs to be pushed before the machine is on)
5.It is suggested to change the attractant and clean the machine every 30 days.
---
How to clean?

Clean the net:
1.Turn anti clockwise to remove net.
2.Throw away dead mosquitoes and clean the dust.
3.Turn clockwise to re-insert net into trap.
Clean the machine:
There will be a layer of dust on the LED lights and fan after 2-3months use of the machine, which may impact the effective. Please use the brush we provided to clean the dust on the fan andLEDs. For model UNO (TM02) & UNO Pro (TM04), please follow the steps below.

1. Turn anti clockwise to remove the ring and the upper parts, take away the grid.
2. Use the brush to clean the dust on the fan and LEDs.
3.Put back the grid, Turn clockwise to re-insert the ring and the upper parts.
---
Caution:

1.Leave it on for 24/7 for maximum impact.
2.Do not let children touch the machine.
3.Please do not leave the machine outside in the rain. This will prevent the machine from short circuiting.
4.Please do not look at LED straight in the eye to prevent damages to the eyes.
5.Clean the net and machine and change the attractant every 30 days.
6.The attractant is harmless, but do not consume .
7.Please turn off the machine before cleaning the machine.
8.If the net is damaged, please contact the retailer and change it right away.